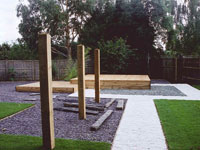 Garden Design
At Hippo Designs we aim to take all the effort out of what can seem like quite a daunting process of landscaping your garden. Whether it is a particular area of the garden that requires attention such as turfing the lawn, creating a new patio or seating area, the preparation of new flower beds or garden borders or the total transformation of your outdoor space, Hippo Designs offers a comprehensive garden design process including preliminary sketches and technical drawings of the area to be landscaped.
Liaising with you and involving you as much as possible enables Hippo Designs to create a unique garden design based upon your budget and your gardening knowledge. The end result will be that you can achieve your perfect exterior space, be it low maintenance, a gravel garden, a paved area, an area gently illuminated with garden lighting, a minimalist landscape or a flower border cascading with colours, rich and vibrant.
The garden design process begins with an initial consultation where the outline brief for the area to be landscaped, will be established as to what the clients requirements are, this is then followed by a site survey where the garden is measured and any trees/plants or features are taken into account. You will then be presented with three preliminary sketches which will be discussed with you face to face. These sketches will be entirely different from one another but still within the brief. Once all aspects concerned have been discussed and tailored to your requirements, a full scale working drawing will be presented to you, this will include planting suggestions and advice as to different materials, be it a type of paving, gravel or decking. And such things as garden lighting, pots, containers and statues.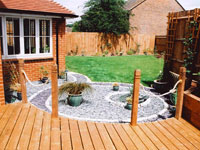 As well as offering a full scale working plan, I also offer bespoke planting plans that will have been put together with consideration to aspect, soil type and ph, as well as many other constraints.
I will manage the development of your garden design and the landscape construction phase personally, finishing with soft landscaping, offering all that you would expect in the way of professionalism.
Click here to see many more testimonals on our Check a Trade website.